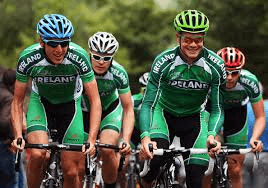 We hope you will support the boys in green this weekend in Bergen, Norway at the Road World Championships…
Conor Dunne
Dan Martin
Ryan Mullen
Nicolas Roche (TT and Road)
Damien Shaw
Sean McKenna
Saturday 23rd September , The Saturday Tour!
The Saturday group is back running fully for those available for the next while before the Autumn rides kick off again. We will taper speed to those participating so don't worry about being thrashed…the route will be fun…
Meet: Glen of the Downs Carpark, @ 10.00am… Expect an 80km spin.
Ridden at a moderate pace
Sunday 24th September, The Sunday Easy Tour!
Meet: Grove Bar, Willow Grove @ 10.00am. Lead by Patrick Bradshaw!
Expect a 60k spin . Back by 2pm with an obligatory coffee stop.
The groups will split depending on abilities.
At least a dozen or more most weeks so come along and join the chain gang!