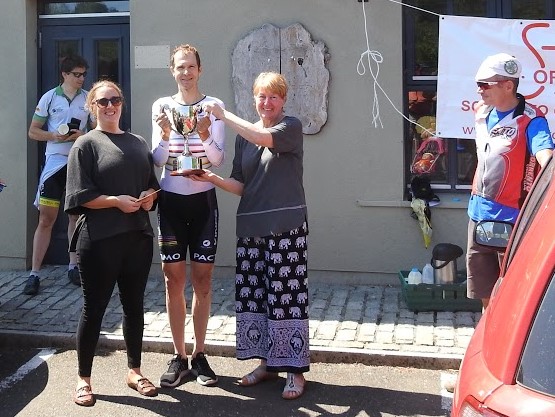 Masters world TT champion Greg Swinand has won the Danny O'Shea 10 Mile TT in Co Wicklow.
Swinand (Viner-Caremark-Pactimo) was 12 seconds better than Paul Kennedy of Newcastle West.
The race from the Tap on the Old N11 road near Wicklow was promoted by Sorrento Cycling Club.
Kennedy, who claimed bronze in the elite TT at the National Road Championships two weeks ago, was hampered by a mishap.
At one point he went off course. By the time he righted himself he had lost time. And against opposition like Swinand, he paid for it.
The two veterans were joined by Kieran Regan (St Tiernan's CC) on the podium. He was 22 seconds down on winner Swinand.
Sat, July 14: Danny O'Shea 10m TT
Kilbride near Wicklow, Co Wicklow
Promoted by Sorrento CC
Greg Swinand Viner-Caremark-Pactimo 20:40
Paul Kennedy Newcastle West CC 20:52
Kieran Regan St Tiernan's CC 21:02
Anthony Mulholland Scott-Orwell 21:57
Declan Kinch Slipstream 22:03
Jason Earls South East Road Club 22:09
Denis McCarthy Slipsteam 22:26
Balazs Galambos Scott Orwell 22:29
Pat Byrne Dublin Wheelers 22:41
John McGettigan Lucan CRC 22:45
Tilt Taluma St Tiernan's 22:59
Ronan Short South East Road Club 23:04
David Carroll South Dublin Road Club 23:11
Anto Dunne Bray Wheelers 23:24
Mark Fagan Navan Road Club 23:42
Linus Devlin Wicklow Velo 24.53
Hugh Davis Slipstream 25.00
Barry Greene Scott Orwell 25.20
Jenny Neenan Sundrive Track Team 25.54
Ben O'Higgins Bray Wheelers 27.03