We are always delighted to hear from new members.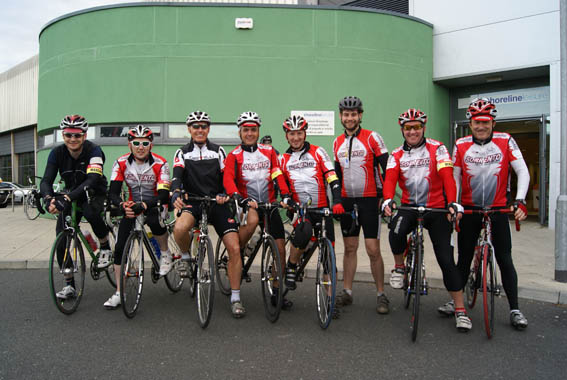 A bit of info on our events;
We have two road spins at present on Saturday and Sundays.
We are primarily based around Delgany/Greystones but a lot of our members are from south Dublin down to Wicklow town.
We begin most of our spins in the Glen of the Downs on Saturdays and from the Grove Bar at Willow Grove on Sundays both at 10am.
The details are updated weekly on our website and members are emailed and we have a public members forum on Facebook.
The Saturday group will be slightly faster and includes sportive riders and guys getting ready for summer races, Sunday being a little bit easier.
The Sunday group are a mix of men and women.
We split on Sundays depending on ability into two groups and different routes/distances.
We take all beginners on these spins so you are very welcome to turn up and try out with us.
We have a couple of coaches who through the winter lead nighttime training over a 10 week period.
We usually also have one of the coaches involved in the Saturday spin.
If you are interested we also have weekly club races from April to August with most of them around a couple of circuits near Roundwood where riders also from the Sunday tours often progress to. These take place on Thursday evenings for men and women.
If you would like someone from the club to contact you use the contact us box at the top of the page for more information.
Click below to download a membership application form.
Sorrento CC New Membership Form 2018