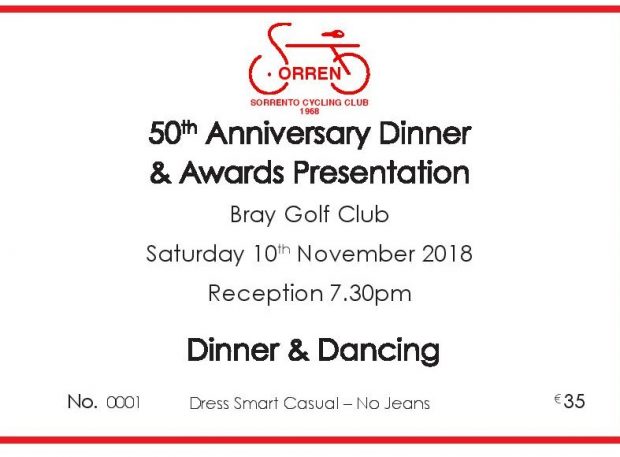 To celebrate the 50th Anniversary of Sorrento Cycling Club we cordially invite all members and their guests to join with our past members to renew past Friendships, awaken old Acquaintances, make new experiences or just simply let your hair down…
A super night where we rekindle some of the club treasure trove of memories and celebrate the future as well as where we celebrate and congratulate our winners.
The night will be compered by Eurosport cycling commentator Declan Quigley who himself and many of his family were former members.
Come along and see memorabilia on display and join in this once in a generation night to remember.
Places are limited and tickets on a first come basis at €35 per person to include 3 course dinner and entertainment with a glass of fizz to kick off the night…there might be even a goodie or two for all attending!
Tickets are available from all committee members from Friday 5th October and with 40 firm requests already they are going to sell out fast…
A list of the committee contacts are being emailed to all members.