Sorrento CC Wed Night Virtual Training Jan 2021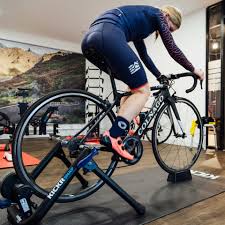 For ALL members
As it looks like we wont be able to do our normal Wed Night Road Training sessions for some time Aidan is suggesting that we do a virtual training session each Wed night commencing 7pm Wed 13th Jan for an initial 4 week period. Each member will use their home trainer and join a Zoom meeting for which he will send out an invite in advance.
He will also send out a Zwift Meet Up invite for those who have this app and smart trainers.
Any club member of any level of ability can participate as you will be within your own home and can tailor each session to your own pace:
You will need:
An internet/Wifi connection
A home trainer of some description
Smart phone/ tablet / lap top
Not strictly necessary but very helpful and enhancing for the session would be:
A subscription to Zwift (free trial available).
A second device on which to play Zwift
Smart Trainer compatible with (and controllable by) Zwift
Heart monitor compatible with Zwift
A filled large bidon – electrolyte tabs recommended
A towel to place over stem top tube to catch sweat – highly corrosive
A fan and/or open window
Knowing your FTP or Heart Rate Zones
A mat below home trainer (to absorb sweat)
The sessions will be structured quality sessions similar to our previous outdoor Wed night sessions. The virtual sessions will be shorter – 45 min approximately – than on-road sessions as warm up is considerably reduced and we won't need to stop to explain each exercise.
If you are interested please email me jaidanryan@gmail.com before 8pm Sunday 10/1/21 to let me know and so that I can email you Zoom invite.
Also
If you have a Zwift subscription please send me a follow request so that I can send you a Meet Up invite. There is more than one Aidan Ryan on Zwift. I am the one whose profile photo is a Cycling Safaris jersey.
Aidan Ryan