As we are unable to do our normal Wed Night Road Training sessions for the time being, we have with the great support of our two coaches Aidan and Dave, been able to get a training session together on Zoom(as well as Zwift).
The virtual training sessions on Wednesday nights have proved a huge success( at least 18 riders mos weeks) and is set to grow as more members take part each week. The group was made up of riders from across all our weekend groups…so no need to be shy as some of your mates will be taking part…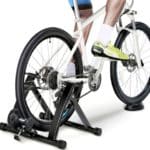 The great enthusiasm shown by the coaches made the session even more valuable and with the hour built in blocks allowed for even those whose fitness levels have been challenged by the lockdown.
The terrific part of this session was that no-one is dropped as could happen on the road and each rider can work on their fitness by building up weekly as we progress in the comfort of their home.
The sessions take place each Wednesday night and next week the session will start commencing at 6pm(every Wednesday ). Each member will use their home trainer(or spin/exercise bikes/rollers) and can join through a Zoom meeting for which Aidan will send out an invite in advance.
He also sends out a Zwift Meet Up invite for those who have this app and smart trainers(only to those using this platform).
Any club member of any level of ability can participate as you will be within your own home and can tailor each session to your own pace:
Contact the club email to be included – sorrento.cycling@gmail.com.