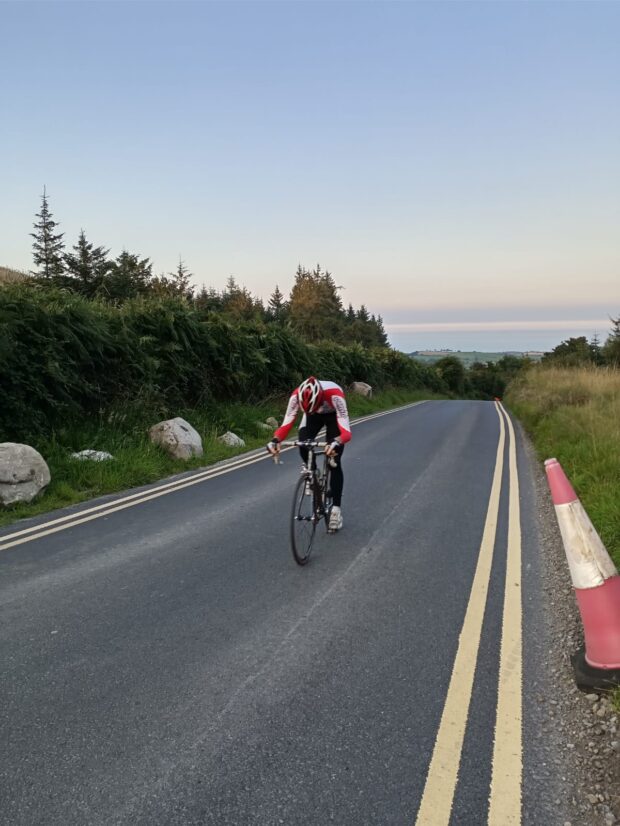 Dave Peelo sprints across the finish line.
It was no pain no gain, on probably currently one of the best stretches of tarmac in Co.Wicklow, Altidore, with an average gradient of 12.4% over it's 1.05km route, the venue for the Sorrento CC Hillclimb Championship, final event in the 2021 league. It certainly went down to the wire in the last of the Summer league races with only a slim margin separating the top four riders in the league standings going into ultimate race.
The race favourite and acknowledged star of the hillclimb in past years, Dave Peelo did not disappoint with a stunning performance of 4.42 minutes just over a minute quicker than his fellow club coach Aidan Ryan on this backbreaking challenge.
The win propelled Peelo to the winning spot in the league with Roy Bowden taking second place overall with Aidan Ryan on the third step of the podium. The leading lady this year was none other than Eileen O'Sullivan with two races wins and one second place cementing her place as sixth place overall closely followed by Suzanne White in seventh place.
What a great year for the club with huge advances across multiple disciplines in road and track racing especially our lady members getting our name out there and not forgetting our male stalwarts in vets racing as well as a revitalised A4 racer getting his name ino the results in Mondello on a near weekly basis…
Big thanks to George for his skills with the stopwatch, POD for his direction and tireless flag waving skills, a big mention too for Aidan, the arch villain handicapper who managed to keep everyone honest.
Name
Actual Time
Handicap Time
Place
Points
Dave Peelo
4.42
4.42
1st
11
Suzanne White
6.05
5.00
2nd
10
Aidan Ryan
5.44
5.04
3rd
9
Cearbhall Guilfoyle
8.07
5.07
4th
8
Mark McGarry
6.08
5.18
5th
7
Aine MacCarthy
7.17
5.27
6th
6
Roy Bowden
6.20
5.35
7th
5
Danny McDermott
6.38
5.48
8th
4
Eileen O'Sullivan
9.45
6.05
9th
3
Stephen Healy
7.02
6.22
10th
2
Timekeeper: G O'Rorke,
Chief Marshal; P O'Donoghue
Marshals: M Wilde, P Murray, G Peelo
Final League Position 2021
| | | | | | | | | | | | | |
| --- | --- | --- | --- | --- | --- | --- | --- | --- | --- | --- | --- | --- |
| RIDER | L1 | L2 | L3 | L4 | L5 | L6/C2 | L7 | L8 | L9 | L10 | L11 | Total |
| Dave Peelo | 10 | 3 | 10 | 10 | 10 | 4 | 1 | 0 | 8 | 1 | 11 | 68 |
| Roy Bowden | 9 | 6 | 9 | 1 | 9 | 0 | 10 | 1 | 7 | 7 | 5 | 64 |
| Aidan Ryan | 6 | 10 | 1 | 8 | 1 | 3 | 8 | 1 | 10 | 6 | 9 | 63 |
| Paul Cullinan | 11 | 4 | 11 | 7 | 1 | 3 | 11 | 4 | 1 | 9 | 0 | 62 |
| Stephen Healy | 8 | 5 | 6 | 5 | 7 | 3 | 1 | 0 | 6 | 8 | 2 | 51 |
| Eileen O'Sullivan | 1 | 1 | 1 | 0 | 11 | 0 | 6 | 11 | 5 | 10 | 3 | 49 |
| Suzanne White | 2 | 8 | 0 | 11 | 1 | 4 | 1 | 9 | 0 | 1 | 10 | 47 |
| Danny McDermott | 3 | 9 | 7 | 0 | 1 | 3 | 1 | 1 | 11 | 4 | 4 | 44 |
| Aine MacCarthy | 1 | 1 | 1 | 0 | 0 | 3 | 2 | 7 | 9 | 11 | 6 | 41 |
| Mark Mc Garry | 7 | 7 | 3 | 1 | 6 | 0 | 4 | 1 | 0 | 5 | 7 | 41 |
| Cearbhall Guilfoyle | 1 | 0 | 5 | 1 | 0 | 1 | 7 | 6 | 0 | 3 | 8 | 32 |
| Aubrey Shaw | 0 | 11 | 8 | 1 | 0 | 0 | 9 | 1 | 0 | 0 | 0 | 30 |
| Cathy McCormack | 5 | 1 | 1 | 9 | 5 | 3 | 1 | 0 | 0 | 0 | 0 | 25 |
| Patrick Bradshaw | 0 | 0 | 2 | 4 | 1 | 1 | 5 | 10 | 1 | 0 | 0 | 24 |
| Jackie Mac Namee | 0 | 0 | 0 | 3 | 8 | 1 | 0 | 8 | 1 | 0 | 0 | 21 |
| Alan Mac Namee | 0 | 0 | 0 | 6 | 4 | 1 | 0 | 5 | 1 | 0 | 0 | 17 |
| Denis Donohoe | 1 | 1 | 4 | 0 | 0 | 0 | 3 | 0 | 0 | 0 | 0 | 9 |
| Mark Prendergast | 4 | 0 | 1 | 0 | 0 | 0 | 0 | 0 | 0 | 0 | 0 | 5 |