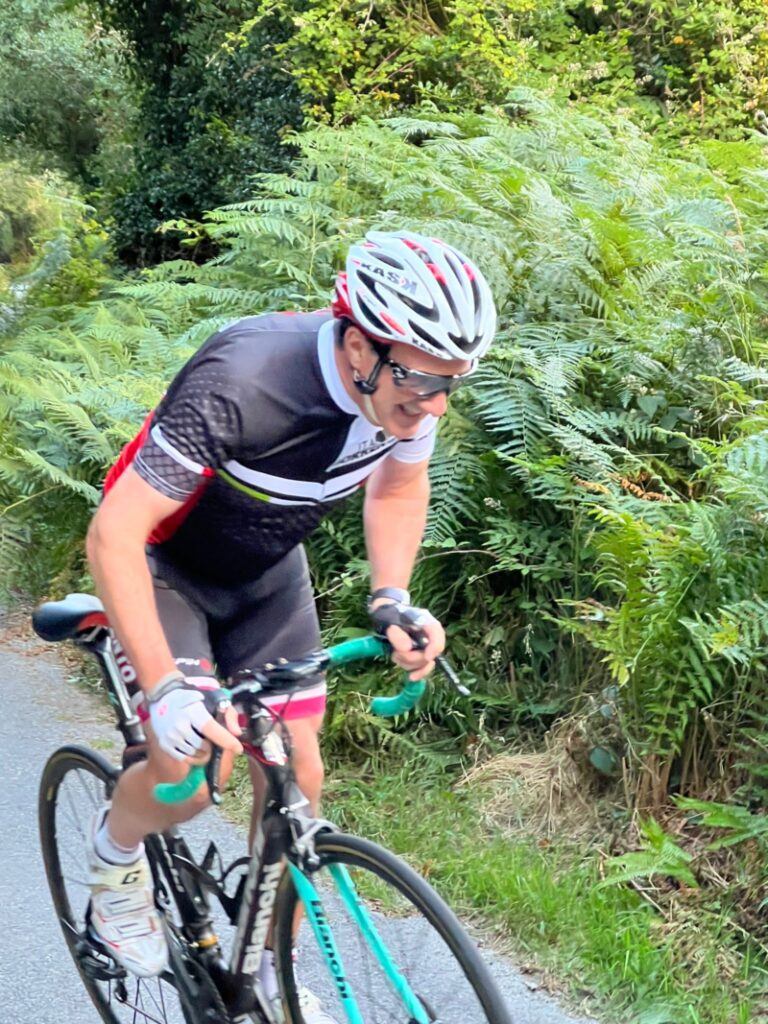 The end of the Summer league took place last night with race 12 in the series ascending the climb of Ballycullen, a climb that almost runs parallel to the Devils Glen and is nearly as steep.
A good field comprising the key riders in the league positions making up the field to take on this tree lined 1.5km challenge which averages out at 9.3% but with some steep sections adding to the pain despite the lovely cycling conditions. The pressure was on the league leader Patrick Bradshaw with two riders still mathematically capable of catching him. The fastest rider as expected was Dave Peelo who showed his ability on the climbs is as sharp as ever, despite a recent bout of covid, beating his nearest rival on the night (Rory Hogarty) in the scratch results by 1 minute and 23 seconds.
The handicap race was won by the form rider this year Patrick Bradshaw, the only rider to ride all 10 allowed races and cementing his win in the league by a substantial 18 points gaining on his rivals by a margin of 7 points, on the night after 12 years of trying! The second win in his results this year was only matched by Dave Peelo, last years league winner.
The podium spots were rounded out by Suzanne White on 59 points who has been having an enjoyable season representing the club at national level and also showing her talents at IVCA races this year.
The final spot on the podium this year was taken by 67 year old Cearbhall Guilfoyle who again shows that age is just a number with four second places this year. The work of our Race Secretary George O'Rorke was unstinting throughout the season and combined with the great members who volunteered their services as marshals, allowing for a superb and safe series of races for which all the competitors were grateful every week. A great finish to a very successful club season which will no doubt encourage many of the new racing members in their winter training programmes.
Name
Actual Time
Handicap Time
Place
Points
Patrick Bradshaw
8.32
4.41
1st
11
Cearbhall Guilfoyle
9.00
4.56
2nd
10
Rory Hogarty
7.03
5.07
3rd
9
Aine MacCarthy
9.06.87
5.16
4th
8
Liam Kennedy
9.06.85
5.26
5th
7
Ehmar Quereshi
10.41
5.27
6th
6
Dave Peelo
5.40
5.40
7th
5
Suzanne White
7.59
5.55
8th
4
Rob Cullen
9.45
5.59
9th
3
Anthony Keenan
10.45
6.07
10th
2
Roy Bowden
8.41
7.02
11th
1
Timekeeper: G O'Rorke, P O'Donoghue
Marshals: M Wilde, G Peelo,K Thomas.
H/Capr;D Peelo
| | | | | | | | | | | | | | |
| --- | --- | --- | --- | --- | --- | --- | --- | --- | --- | --- | --- | --- | --- |
| RIDER | L1 | L2 | L3 | L4 | L5 | L6 | L7 | L8 | L9 | L10 | L11 | L12 | Total |
| Patrick Bradshaw | 1 | 10 | 6 | 9 | 8 | 8 | 7 | 11 | 1 | 4 | 1 | 11 | 77 |
| Suzanne White | 6 | 11 | 1 | 0 | 4 | 10 | 3 | 1 | 4 | 9 | 6 | 4 | 59 |
| Cearbhall Guilfoyle | 2 | 0 | 0 | 7 | 10 | 1 | 10 | 10 | 1 | 2 | 4 | 10 | 57 |
| Roy Bowden | 8 | 6 | 1 | 10 | 0 | 7 | 2 | 2 | 3 | 6 | 10 | 1 | 56 |
| Rory Hogarty | 9 | 1 | 1 | 0 | 3 | 0 | 4 | 9 | 3 | 7.5 | 8 | 9 | 54.5 |
| Dave Peelo | 10 | 1 | 1 | 5 | 11 | 0 | 0 | 0 | 4 | 5 | 11 | 5 | 53 |
| Paul Cullinan | 11 | 7 | 1 | 0 | 7 | 6 | 8 | 0 | 3 | 0 | 9 | 0 | 52 |
| Stephen Healy | 1 | 1 | 1 | 6 | 1 | 11 | 9 | 5 | 3 | 7.5 | 0 | 1 | 46.5 |
| Ehmar Qureshi | 1 | 1 | 5 | 11 | 6 | 4 | 1 | 3 | 0 | 1 | 0 | 6 | 39 |
| Aine MacCarthy | 0 | 1 | 10 | 0 | 2 | 9 | 0 | 8 | 1 | 0 | 0 | 8 | 39 |
| Chris Doorly | 0 | 1 | 0 | 8 | 9 | 5 | 0 | 7 | 3 | 1 | 0 | 0 | 34 |
| Alan MacNamee | 7 | 9 | 8 | 0 | 0 | 0 | 6 | 1 | 1 | 1 | 0 | 0 | 33 |
| Anthony Keenan | 1 | 0 | 0 | 1 | 1 | 1 | 11 | 4 | 0 | 3 | 5 | 2 | 29 |
| Jackie MacNamee | 1 | 8 | 11 | 0 | 0 | 0 | 5 | 1 | 1 | 1 | 0 | 0 | 28 |
| Aidan Ryan | 5 | 1 | 0 | 0 | 0 | 0 | 1 | 0 | 0 | 11 | 7 | 0 | 25 |
| Liam Kennedy | 3 | 0 | 7 | 0 | 1 | 0 | 1 | 6 | 0 | 0 | 0 | 7 | 25 |
| Rob Cullen | 0 | 0 | 9 | 4 | 1 | 0 | 0 | 1 | 0 | 0 | 0 | 3 | 18 |
| Eileen O'Sullivan | 1 | 5 | 0 | 0 | 5 | 1 | 1 | 0 | 0 | 0 | 0 | 0 | 13 |
| Mark Prendergast | 0 | 0 | 0 | 1 | 0 | 1 | 0 | 0 | 0 | 10 | 0 | 0 | 12 |
| Mark McGarry | 0 | 0 | 1 | 1 | 1 | 1 | 1 | 0 | 0 | 1 | 1 | 0 | 7 |
| Cathy McCormack | 4 | 0 | 0 | 0 | 1 | 0 | 0 | 0 | 0 | 0 | 0 | 0 | 5 |
| Maurice Johnson | 0 | 0 | 1 | 1 | 0 | 0 | 0 | 0 | 0 | 0 | 0 | 0 | 2 |